Lake Como offers unique experiences available only during the winter months. When it comes to romantic winter experiences, Lake Como has everything you could possibly need, from fascinating villas to cosy restaurants for romantic walks, and inspiring architecture and green spaces.
What better way to enjoy the beauty of the winter than taking part in local nativities, visiting the Christmas markets and enjoying some warm glue wine with hot chestnuts on a cold beautiful winters day. These are our top pics of things to do when staying on lake Como in the Winter.
Visit the Valtellina
Valtellina is the valley North of Lake Como. During the winter months this valley becomes alive with Christmas feeling, Drive up to the north of the lake and go explore the valley. A visit to the Fiorida farm & Agriturismo is a must. The stone and wood buildings of the Agriturismo La Fiorida stand near the banks of the river Adda in a context of nature and colour which is in perfect harmony with the local countryside. The farm can be reached by car, from the Main Road (Strada Statale) 38 at Rogolo, or by bike on the delightful cycle path, the Sentiero Valtellina, which connects Colico to Morbegno. The business is a pleasant staging post for those going on to the famed locations of the Upper Valtellina, in Val Chiavenna and in the Engadina, and for those who want to observe animals close up and to taste those wholesome foods which come directly from nature.
Here you can visit the farm, enjoy a panino infront of the open wood fire in the shop full of local delicassies all made by them, or even enjoy a bit of fine dining in the exquisite restaurant. You don't have to book the farm, shop or restaurant but if you plan on dining in booking is always advised.
Book here: https://www.lafiorida.com/en/contact-us/
Winter Markets
THE MOST IMPORTANT CHRISTMAS MARKETS IN VALTELLINA
ALBOSAGGIA CHRISTMAS MARKETS
When: Saturday 14 and Sunday 15 December
A few kilometers from Sondrio, Albosaggia hosts one of the most important Christmas markets in Valtellina, with numerous stalls and a rich program of collateral events. Do not miss the exhibition of the Cribs by Maestro Boschetti even exhibited at the Quirinale last year.
CHRISTMAS VILLAGE IN LIVIGNO
When: from 29 November to 30 December
In addition to the various stalls with numerous handicrafts, the Christmas village of Livigno also hosts works of art created by artists, hobbyists and artisans from Livigno and Trepalle. In conjunction with the Christmas village, the museum of Livigno and Trepalle is worth mentioning, which has organized a small exhibition at the museum referring to the history of St. Lucia and / or the Child Jesus where visitors will have the opportunity to write their own letter with a pen and inkwell.
NATIVITIES IN VALTELLINA
NATIVITY OF VILLA DI CHIAVENNA
When: from 8 December to 6 January
Built on a human scale, the nativity scene in Villa di Chiavenna depicts numerous nativity characters handcrafted by the locals. The attention to detail, from the facial expressions of the figures to the clothing, is surprising and leaves the numerous visitors who flock every year to admire this splendid nativity scene ecstatic.
LIVING NATIVITY BY FAEDO VALTELLINO
When: December 23rd
A few km from Sondrio, a traditional living nativity scene in the ancient district of S. Carlo with a representation of ancient crafts
GREAT NATIVITY OF VAL TARTANO
When: from December 24th to January 6th
Val Tartano, in addition to the highest Tibetan bridge in Europe, hosts another of the most important man-sized cribs in Valtellina and depicting scenes of everyday life from the past. There are also special night openings.
NATIVITY OF THE TALAMONA CONTRADAS
When: from December 21st to January 6th
A few kilometers from Morbegno, during the Christmas period Talamona is enriched with numerous nativity scenes displayed in the various districts of the town in different and original environments, such as stables, wash houses and streams.
LIVING NATIVITY OF LANZADA
When: from December 24th to January 4th
On the meadows of the hamlet of Vetto, in Valmalenco, an appointment with one of the most characteristic winter events in the whole of Valtellina: the living nativity scene of Lanzada.
WALKING THROUGH NATIVITY IN VAL MASINO
When: from 8 December to 6 January
In the villages of S. Martino, Filorera and Cataeggio, an exhibition of numerous handcrafted nativity scenes and numerous collateral events
MAIN CHRISTMAS EVENTS IN VALTELLINA
In addition to the characteristic Christmas markets and cribs, there are numerous Christmas events that characterize this period: concerts, readings for children, educational workshops, parades with Santa Claus and much more! Among the most important events, we point out:
STREETS OF CHOCOLATE
When: Sunday 8 December
Along the streets of the historic center of Sondalo, in Alta Valtellina, an itinerant itinerary is proposed for the tasting of chocolate-based sweets, as well as hot chocolate. To accompany the event, Christmas markets and other collateral events.
RUN BORMIO WINTER
When: Saturday 7 December
Starting at 4 pm, the center of Bormio hosts a rich program of events and activities for adults and children: Christmas shopping, tastings, shows, music, entertainment and much more!
CHRISTMAS RUNNING
When: Sunday 8 December
A brilliant, fun and slightly crazy event in the name of sport and solidarity: like every year Morbegno hosts the traditional non-competitive run-walk, 5 km, with protagonists ... the Santas!
SONDRIO IS ... WINTER
When: from 8 December to 6 January
The city comes alive with stalls, markets, concerts, events in the square, the opening of the skating rink and much more!
THE OTHER CHRISTMAS MARKETS
In addition to those mentioned above, the following dates and locations of the other markets in Valtellina:
HIGH VALTELLINA
BORMIO: 8, 22, 30 December and 5 January, in the Piazzetta in front of the Municipality
VALFURVA: December 29 and January 4 in piazza Magliavaca, in S. Caterina Valfurva
VALDIDENTRO: 7 and 8 December in Piazza IV Novembre, in Isolaccia
SONDALO: 8 December in conjunction with Strade di Cioccolato
MID VALTELLINA
APRICA: 1st and 2nd December, from 7th to 9th, 15th to 16th December and from 21st December to 5th January
BUNCH OF VALTELLINA: 1st and 2nd December in Piazza S. Stefano
VILLA DI TIRANO: 8 December
MORBEGNO AND SURROUNDINGS
PIANTEDO: December 2 at the tensile structure and the municipal gym
MORBEGNO: 8, 15 and 22 December, along via Garibaldi and in the public gardens of via Cortivacci
VALCHIAVENNA
MADESIMO: from 6 December to 6 January, in piazza Bertacchi
MONTH: November 24 and 25 in the streets of the center
NOVATE MEZZOLA: December 2nd
CHIAVENNA: 7 and 21 December
CAMPODOLCINO: December 29th in Piazza S. Antonio
winter markets details and credits to: https://www.valtellina.it/it/eventi/sondrio-e-dintorni/
Il Lago di Como offre esperienze uniche disponibili solo durante i mesi invernali. Quando si tratta di romantiche esperienze invernali, il Lago di Como ha tutto ciò di cui potresti aver bisogno, dalle affascinanti ville agli accoglienti ristoranti per romantiche passeggiate, all'architettura stimolante e agli spazi verdi.

Quale modo migliore per godersi la bellezza dell'inverno che prendere parte ai presepi locali, visitare i mercatini di Natale e gustare un po 'di vino caldo colla con castagne calde in una fredda bella giornata d'inverno. Queste sono le nostre migliori foto di cose da fare quando si soggiorna sul lago di Como in inverno.
QUEST'INVERNO DA SCOPRIRE LA VALTELLINA
La Valtellina è la valle a nord del Lago di Como. Durante i mesi invernali questa valle si anima di un'atmosfera natalizia, guida fino a nord del lago ed esplora la valle. Una visita all'azienda agricola Fiorida & Agriturismo è d'obbligo. Le costruzioni in pietra e legno dell'Agriturismo La Fiorida sorgono a ridosso delle rive del fiume Adda in un contesto di natura e colore in perfetta armonia con la campagna locale. L'azienda è raggiungibile in auto, dalla Strada Statale 38 al Rogolo, oppure in bicicletta lungo la deliziosa pista ciclabile, il Sentiero Valtellina, che collega Colico a Morbegno. L'azienda è un piacevole punto di sosta per chi si reca nelle rinomate località dell'Alta Valtellina, in Val Chiavenna e in Engadina, e per chi vuole osservare da vicino gli animali e assaporare quei cibi genuini che provengono direttamente dalla natura.



Qui è possibile visitare la fattoria, gustare un panino davanti al fuoco di legna nel negozio pieno di prelibatezze locali tutte fatte da loro, o anche gustare un po 'di cucina raffinata nel raffinato ristorante. Non è necessario prenotare l'agriturismo, il negozio o il ristorante ma se si prevede di cenare è sempre consigliata la prenotazione.



Prenota qui: https://www.lafiorida.com/en/contact-us/
I PIÙ IMPORTANTI MERCATINI DI NATALE IN VALTELLINA
MERCATINI DI NATALE DI ALBOSAGGIA
Quando: sabato 14 e domenica 15 dicembre
A pochi km da Sondrio, Albosaggia ospita uno dei mercatini di Natale più importanti della Valtellina, con numerose bancarelle e con un ricco programma di eventi collaterali. Da non perdere la mostra dei Presepi del Maestro Boschetti esposta addirittura al Quirinale lo scorso anno.

VILLAGGIO DI NATALE A LIVIGNO
Quando: dal 29 novembre al 30 dicembre
Oltre alle varie bancarelle con numerosi prodotti artigianali, il villaggio di Natale di Livigno ospita anche delle opere d'arte realizzate da artisti, hobbisti e artigiani di Livigno e Trepalle. In concomitanza con il villaggio di Natale, da segnalare il museo di Livigno e Trepalle che ha organizzato una piccola esposizione al museo riferita alla storia di S.Lucia e/o Gesù Bambino dove i visitatori avranno la possibilità di scrivere la propria letterina con pennino e calamaio.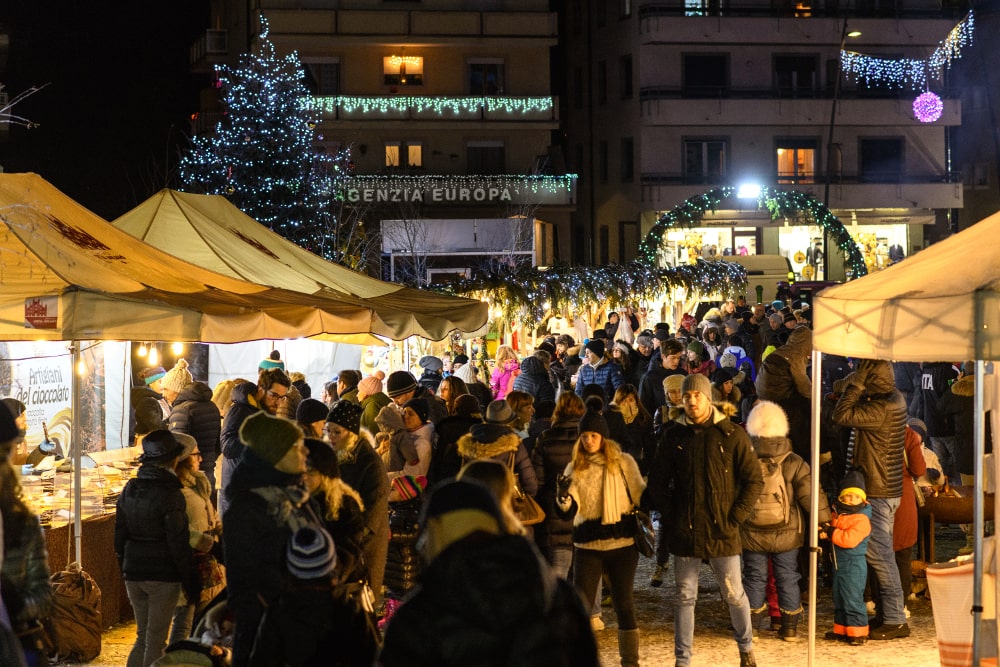 PRESEPI IN VALTELLINA
PRESEPE DI VILLA DI CHIAVENNA
Quando: dall'8 dicembre al 6 gennaio
Costruito a grandezza d'uomo, il presepe di Villa di Chiavenna raffigura numerosi personaggi della natività realizzati artigianalmente dagli abitanti del posto. La cura nei dettagli, dalle espressioni del viso dei figuranti fino all'abbigliamento, è sorprendente e lascia estasiati i numerosi visitatori che accorrono ogni anno ad ammirare questo splendido presepe.

PRESEPE VIVENTE DI FAEDO VALTELLINO
Quando: il 23 dicembre
A pochi km da Sondrio, tradizionale presepe vivente nell'antica contrada di S. Carlo con rappresentazione degli antichi mestieri

GRANDE PRESEPE DELLA VAL TARTANO
Quando: dal 24 dicembre al 6 gennaio
La Val Tartano, oltre al ponte tibetano più alto d'Europa, ospita un altro dei presepi a grandezza d'uomo più importanti della Valtellina e raffiguranti scene di vita quotidiana del passato. Sono previste anche delle speciali aperture in notturna.

PRESEPI DELLE CONTRADE DI TALAMONA
Quando: dal 21 dicembre al 6 gennaio
A pochi km da Morbegno, nel periodo di Natale Talamona si arricchisce con numerosi presepi esposti nelle varie contrade del paese in diversi ed originali ambienti, come stalle, lavatoi e torrenti.

PRESEPE VIVENTE DI LANZADA
Quando: dal 24 dicembre al 4 gennaio
Sui prati della frazione di Vetto, in Valmalenco, appuntamento con una delle rassegne invernali più caratteristiche di tutta la Valtellina: il presepe vivente di Lanzada.

CAMMINANDO PER PRESEPI IN VAL MASINO
Quando: dall'8 dicembre al 6 gennaio
Nei borghi di S. Martino, Filorera e Cataeggio esposizione di numerosi presepi realizzati artigianalmente e numerosi eventi collaterali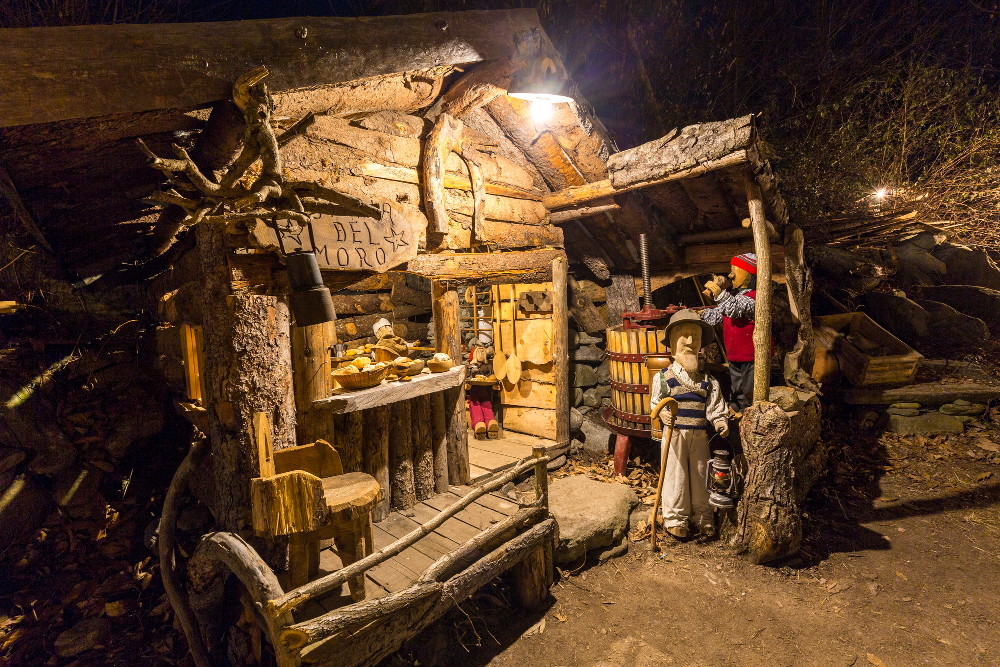 PRINCIPALI EVENTI DI NATALE IN VALTELLINA
Oltre ai caratteristici mercatini di Natale e presepi, sono numerosi gli eventi di Natale che caratterizzano questo periodo: concerti, letture per bambini, laboratori didattici, sfilate con Babbo Natale e molto altro! Tra gli eventi più importanti, segnaliamo:

STRADE DI CIOCCOLATO
Quando: domenica 8 dicembre
Lungo le vie del centro storico di Sondalo, in Alta Valtellina, viene proposto un percorso itinerante di degustazione di dolcetti a base di cioccolato, oltre che di cioccolate calde. Ad accompagnare la manifestazione, mercatini di Natale e altri eventi collaterali.

GIRA BORMIO WINTER
Quando: sabato 7 dicembre
A partire dalle 16, il centro di Bormio ospita un ricco programma di eventi e attività per adulti e bambini: shopping di Natale, degustazioni, spettacoli, musica, animazione e tanto altro!

CHRISTMAS RUNNING
Quando: domenica 8 dicembre
Un evento brillante, divertente e un po' folle all'insegna dello sport e della solidarietà: come ogni anno Morbegno ospita la tradizionale corsa-camminata non competitiva, di 5 km, con protagonisti... i Babbi Natale!

SONDRIO È... INVERNO
Quando: dall'8 dicembre al 6 gennaio
La città si anima con bancarelle, mercatini, concerti, eventi in piazza, apertura della pista di pattinaggio e molto altro!
GLI ALTRI MERCATINI DI NATALE
Oltre a quelli sopra citati, di seguito date e località degli altri mercatini in Valtellina:

ALTA VALTELLINA
BORMIO: 8, 22, 30 dicembre e 5 gennaio, nella Piazzetta di fronte al Comune
VALFURVA: 29 dicembre e 4 gennaio in piazza Magliavaca, a S. Caterina Valfurva
VALDIDENTRO: 7 e 8 dicembre in piazza IV Novembre, a Isolaccia
SONDALO: 8 dicembre in concomitanza con Strade di Cioccolato

MEDIA VALTELLINA
APRICA: 1 e 2 dicembre, dal 7 al 9, 15 al 16 dicembre e dal 21 dicembre al 5 gennaio
MAZZO DI VALTELLINA: 1 e 2 dicembre in piazza S. Stefano
VILLA DI TIRANO: 8 dicembre

MORBEGNO E DINTORNI
PIANTEDO: il 2 dicembre presso la tensostruttura e la palestra comunale
MORBEGNO: 8, 15 e 22 dicembre, lungo via Garibaldi e presso i giardini pubblici di via Cortivacci 

VALCHIAVENNA
MADESIMO: dal 6 dicembre al 6 gennaio, in piazza Bertacchi
MESE: il 24 e 25 novembre nelle vie del centro
NOVATE MEZZOLA: il 2 dicembre
CHIAVENNA: 7 e 21 dicembre
CAMPODOLCINO: il 29 dicembre in P.zza S. Antonio
NOTIZIE DEI MERCATINI MESSI A DISPOSIZIONE DA: https://www.valtellina.it/mercatini-di-natale